Right in the heart of the historic centre of Madrid, Taller Puntera is an oasis of creativity in leather. Located in the pedestrianized Conde de Barajas square, just a stone´s throw from Plaza Mayor, this leather workshop is worth taking a look at. As you leave behind the nearby streets full of franchises and shops that sell tacky and cheap souvenirs made in China, you will soon realize that Taller Puntera is a refreshing corner offering genuine, traditional Spanish craftsmanship.
This workshop employs 9 artisans with cosmopolitan backgrounds who work together in this open space in peace and quiet. The working atmosphere amongst the artisans in Taller Puntera is one of diligent, quiet concentration while they are doing a job they obviously love.
Their dedication results in the most wonderful handcrafted purses, bags, wallets, belts and notebook covers which you cannot find elsewhere.
Taller Puntera produces an incredibly wide range of leather products which can be personalized with a gamut of variations as well as an amazing colour range. The vivid colours of their bags and belts are unusual amongst the more traditional leather productions in brown tones, and this chromatic feast gives this workshop a unique personality.
Fuchsia, pistachio green, deep purple, bright yellow... these objects stand out amongst the more conservative light brown, grey and black leather products which they also sell. It is virtually impossible not to find anything here regardless of your particular taste, whether you are looking for a standard brown leather bag or a more outlandish bright pink one.
Taller Puntera has managed to combine all sort of tastes whilst sticking to the highest quality regarding both materials and workmanship. Their hides are sourced from Spain, mainly from Palencia, and they undergo a careful vegetal tanning process. These type of leather ages extremely well, unlike inferior quality hides used in more industrial-scale productions.
Luis Alonso, a Madrid artisan who learned his trade from his father and uncle, opened Taller Puntera in 2009. His philosophy is to offer affordable, top-quality leather products created in an environment that is conducive to artistic exchange. Taller Puntera often holds leather workshops and communicates and interacts with other artisans in the field. Luis is determined to continue working in his family trade, and he runs Taller Puntera without any government funding.
You can commission personalized objects with your initials, your company's logo or a particular image of your choice, and they will outsource the brass mould from a local artisan to emboss your wallet, journal, folder or whatever you want customized.
The incredible number of variations on any given model include such detailing as colour, buckles, type of fastener or flap, etc. Communication between the artisan and the client is warmly welcome in this shop- but the artisans know their trade inside out and will recommend the best options for you. Because of the nature of leather, each piece is always slightly different from each other even when they are the same model and size. Therefore, their beauty resides in the perfectly unique character of each product.
The respect for the environment is patent in Taller Puntera, and they have designed ankle-straps for bicycle users (which includes some of the staff). One interesting aspect of their production is that they do not make cell-phone covers or accessories. Why? because, unlike commercial products that are subject to fashion changes and technological failure, the leather objects on sale at Taller Puntera will last a lifetime.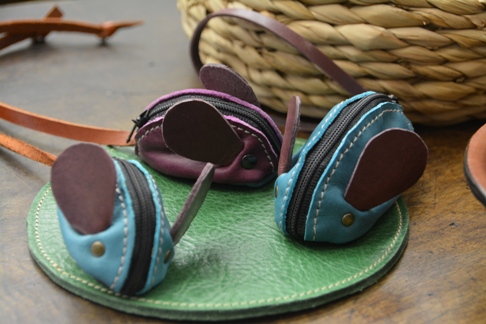 I personally attest to the quality of their leather products. The wallet I purchased here over 6 years ago is looking better every year that passes!
If you are looking for a top-notch quality present that will last for many years and never go out of fashion, pay a visit to
Taller Puntera.
Forget brands, logos and marketing tricks. This is the best leather shop in town.
Location:
Plaza del Conde de Barajas 4
Opening Hours:
Monday to Saturday: 10:00 - 15:00 / 17:00 - 21:00

You can follow Taller Puntera on
Facebook
.
Thank you, Taller Puntera for your original and top-quality products!
Across Madrid recommends this shop as an independent company, and there are no commissions whatsoever involved in our recommendation. We simply have been there and loved it!
© Almudena Cros, December 2015. Please note that this article may be quoted in editorial contexts only, with source and author.